Student activists and community supporters from the Pride Liberation Project gathered outside Luther Jackson High School in Falls Church, Va., Thursday ahead of a Fairfax County School Board meeting.
A group of around 50 students, teachers and supporters gathered on the sidewalk along Glebe Road holding signs and chanting to call on Fairfax County Public Schools (FCPS) to adopt an Education for Life program family (FLE) non-sexist or "mixed" for certain subjects of the school program. FLE is Fairfax County's sex education program.
Activists say a coeducational FLE curriculum would benefit students, especially transgender and non-binary students. Activists accepted the recommendations of the FLE Program Advisory Committee.
The Family Life Education Curriculum Advisory Committee (FLECAC) is comprised of school board members, student body representatives, community representatives, and FCPS teacher and administrator representatives. FLECAC recommended that some lessons be mixed in its 2021-2022 recommendations to the school board report.
However, the Fairfax County School Board chose to postpone a vote on whether to introduce gender-neutral courses for certain subjects as well as other curriculum changes proposed by the advisory committee during a work session in May.
"FLECAC recommended that we unanimously create a gender-neutral FLE," Aarayn Rawal, a student activist with the Pride Liberation Project, told the crowd. "But this school board will not choose to ratify this. What they have chosen to do instead is kick the streets because they are too afraid that gay children have rights in our school system.
"We try to make sure that all people are represented the way they want to be seen in schools: one of the places where they spend the most time," said a student who identified herself as Natasha . "I think we need a mixed FLE in order to promote equality and above all, equity between all students regardless of their sex, their sexual orientation, their race.
"Today we are fighting for the right of people to have bodily autonomy to make their own decisions about their own bodies," student protest organizer Rivka Vizcardo-Lichter told The Blade. "But precisely with the school board we are fighting for them to adopt the FLE reforms that FLECAC has proposed, in particular that of integrating mixed FLE into the curriculum. That is to say that there is no separation of the sexes within the classes. This is a step towards inclusivity for transgender and non-binary students, but furthermore, if accepted, it would show that the board is ready to go further and – perhaps in the future – to expand the FLE program to include queer students. "
A small group of conservative adult protesters gathered on the sidewalk outside the school board meeting. The group stood in front of a 'Parents for Youngkin' yard sign and had a PA system with songs such as David Lee Roth's 'Just a Gigolo' blaring to the assembled crowd: many in the opposing crowd on the sidewalk were underage students. . The group held signs calling for the resignation of Fairfax County school board members, including gay member Karl Frisch.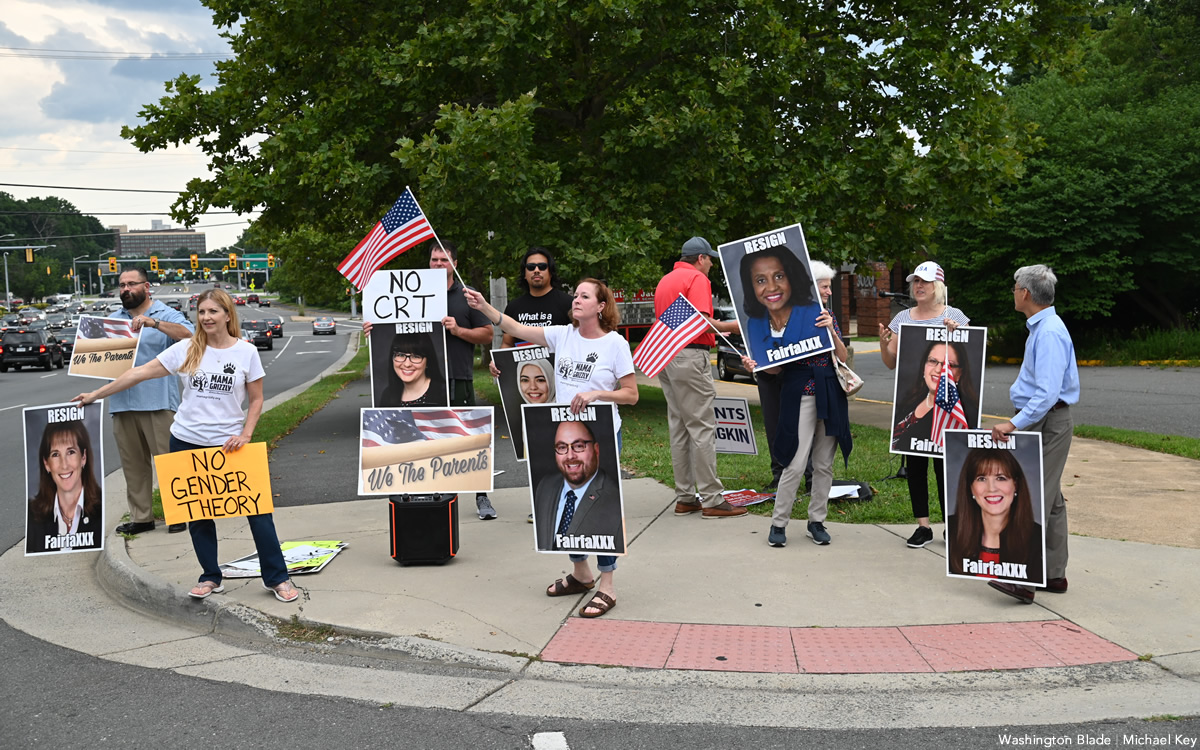 After the protest outside, members of the Pride Liberation Project, Fairfax NAACP and FCPS Pride along with opponents from right-wing groups such as Mama Grizzly walked into the auditorium at Luther Jackson Middle School to attend the Fairfax County School Board meeting.
Several speakers in the community participation segment of the meeting spoke in favor of gender-neutral family life education.
"The fact remains, gay students are struggling," FCPS rising senior Inaayah Kahn told the board. "We have has been struggling. We fight for our right to be heard, to be represented, to be able to feel safe. Almost constantly, I have friends who regularly get insulted, I have friends who continue to forgive the occasional homophobia because the person "didn't know better". I shouldn't have to say it, but it shouldn't happen.
"I attended countless FLE classes throughout my years at FCPS," Kahn continued. "We started out being divided by gender: girls in one room, boys in the other, and there was a distinct lack of discussion about trans, non-binary, and queer identities."
"Queer students don't see themselves represented in our programs," Kahn said. "Queer students feel dysphoric in these classrooms. And queer students desperately need gender-neutral French.
"Your FLECAC committee has recommended co-ed FLE classes, but they still haven't been established," Kahn warned. "Trans and non-binary students live in a world that is becoming increasingly hostile to their identity. And currently, the council does not help them.
FCPS student and Pride Liberation Project organizer Vizcardo-Lichter was recognized for speaking on the podium. "If you've heard of the Pride Liberation Project, you've probably heard that stat about a million times," Vizcardo-Lichter said. "Fifty percent of FCPS students are depressed. And, at this point, you're probably tired of hearing it, but I'm here to tell you why it's essential that you don't ignore it.
Vixcardo-Lichter and others referred to Fairfax County government inquiry which found that 50% of self-identified LGBTQ youth in Fairfax County public schools during the fall 2019 semester had symptoms of depression, compared to 26% of their heterosexual classmates. Additionally, the survey found that 32% of self-reported LGBTQ students had considered suicide, compared to 11% of their heterosexual peers.
"You have a choice: continue to exclude queer students from their own FLE courses and push the statistic, or you can take a step towards inclusivity by adopting the reforms suggested by FLECAC," concluded Vizcardo-Lichter.
"If you implement the reforms suggested by FLECAC, you will take a small but significant step towards the acceptance of gay students," said Cathy Le, addressing the board. "Otherwise, the status quo of hate and fear directed at the queer community will never change. I hope the decision to do what is right is unanimous.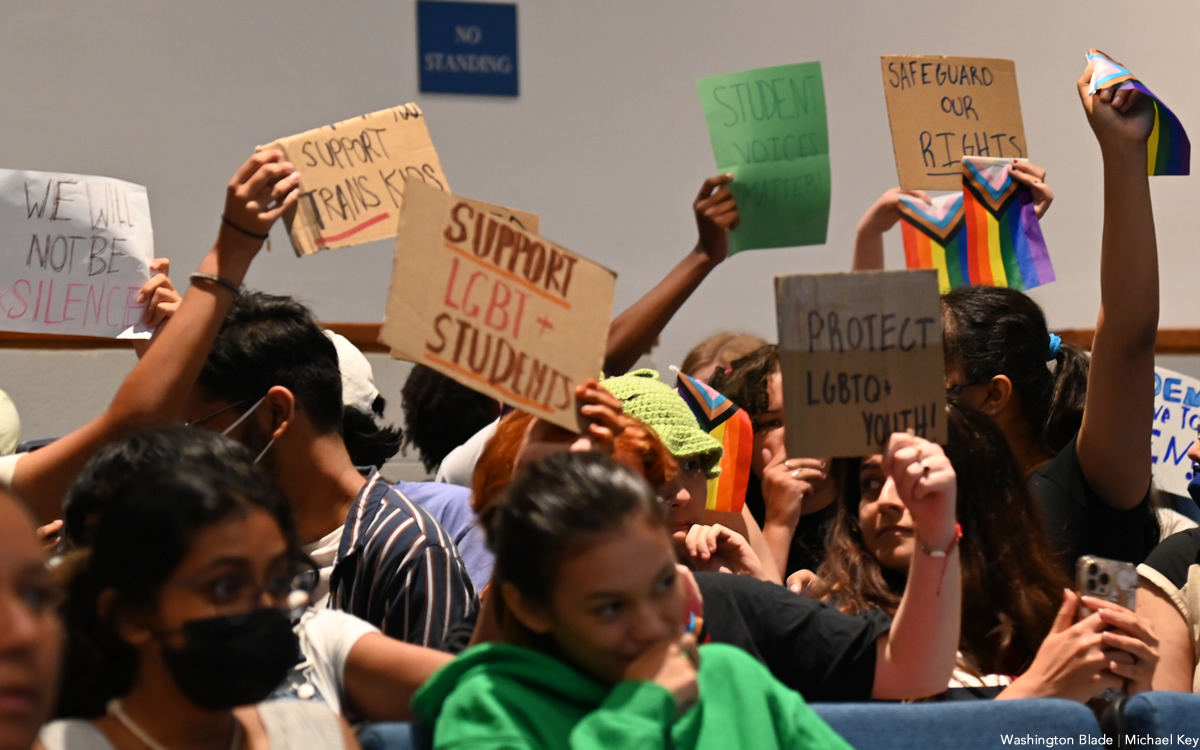 Not all of the speakers in the community engagement segment of the school board meeting were in favor of FLE, coeducational or otherwise.
Kathleen Mallard, wearing a 'Mama Grizzly' t-shirt, blasted the Family Life Education program for a number of unsubstantiated allegations when she spoke to the school board.
"I was very worried when my daughter in grade 12, not grade 7, was going to learn bestiality," Mallard said from the podium. "You know, I didn't know. Fisting. No matter. I didn't know what it was. So anyway, I joined this group.